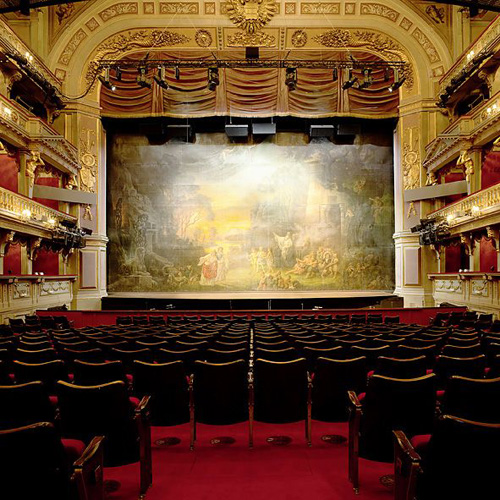 A treat for music lovers is the whole series of baroque operas at the Theater an der Wien. "Berenice. Regina d'Egitto", a Händel Opera in three acts, premiered in 1737 under very difficult circumstances and until recently practically fogotten, was performed in concert form on January 27 with an outstanding cast of singers and musicians.
The plot of the opera is not very different of most of the baroques operas. (A) Alessandro loves (B) Berenice but (B) loves (D) Demetrio who in his turn loves (S) Selene. (F) Fabio loves nobody but he thinks Alessandro would be a better choice for Rome, the Empire he represents, and therefore for everybody else. These complications provoke rage, frustration, disappointment, more love, and a grand finale where everybody seems to return to harmony and understanding.
In times of Wikileaks and "Sex and the City" this plot would not meet with great success, but the revival of the Baroque that we are experiencing today, cannot be explained with the plots but with the colossal musical quality of contemporary singers and performers.
In 2010 the ensemble performing at the Theater an der Wien made a recording of the piece, as well under the direction of Alan Curtis a pioneer of baroque music and founder of Il Complesso Barocco. This CD is considered the ultimate reference of this opera. (A previous recording was made by Rudolph Palmer in 1995.)
In relationship to the CD the performance in concert is particularly interesting since one can easily follow roles and character. At the same time each singer can focus his energy on the voice variations, modulations, and coloraturas.
Klara Ek (Berenice) performs her role fully displaying the whole set of emotions – disappointment, anger and rage – through a firm and brilliant voice.
Franco Fagioli as Demetrio brings the whole extension of a countertenor register to life with an energy that involves the audience. In every single note he brings together his impeccable technique and the intensity of the emotion, thus creating magical musical moments. Particularly in his solo in the fourth scene of the second act "Selene infida" where that magic bubble is only broken by the vibrant applause of the public. Fagiolis exceptional voice brings an entirely new dimension to the genre.
An excellent ensemble altogether: Ingela Bohlin as Alessandro creates a musical character that convinces and attracts. The Roman envoy Fabio is interpreted by Anicio Zorzi Giustiniani. Though a Florentine he brings the necessary elements of power into the plot. Among the celestial voices of sopranos, tenors and counters the bass-tenor Johannes Weisser conveys a terrestrial point of view. Mary-Ellen Nesi as Arsace with her elegant mezzo-soprano gives herself fully to the role as an ally of Berenice.
The role of Selena should have been performed by Romina Basso but due to a winter illness she had to be replaced. Milena Storti took her place on extremely short notice and performed a convincing Selene at times full of doubts, as she probably was, but most of the time warm and even, and at times very clear and bright.
Not to forget the musical director Alan Curtis as one of the most acclaimed interpreters of pre-romantic music and his Complesso Barocco, founded in 1992 and a renowned international baroque orchestra, and last but not least this small treasure of architecture, the Theater an der Wien.
All of them provided us with a pleasant opportunity to enjoy music.
"Berenice, Regina d'Egitto", Theater an der Wien, 27. Jänner 2011
CD: "Berenice, Regina d'Egitto" HWV 38 (1737) [VIRGIN CLASSICS 50999 6285362 0, 3 CDs]
Zur Direktbestellung bei Amazon:
{iframe}http://rcm-de.amazon.de/e/cm?t=tanzat-21&o=3&p=8&l=as1&asins=B003JVIB30&fc1=000000&IS2=1&lt1=_blank&m=amazon&lc1=0000FF&bc1=000000&bg1=FFFFFF&f=ifr{/iframe}